My Hair Disaster
I like my hair lighter for summer. The warm, lighter tones just seem to match the weather perfectly. So this morning I decided to do it on my own -- disaster. I bought the Revlon Highlighting Kit and thought giving myself highlights would be a no-brainer. Using a toothbrush I applied the dye all over my hair and started to clean up the mess. When I looked in the mirror the top of my head was platinum! When I washed it off it was even worse. I looked like a cheetah with different color spots on my head -- some parts were blonder than others.
I put a hat on and went to the closest beauty supply store to reverse what I had done. I figured a light brown dye would cover up my mess without making by hair too dark -- wrong again. The dye did nothing, but make my hair an orangey-blonde. So I was left with just one last option and that was to dye it dark. I bought a box of Clairol's darkest brown and thankfully it worked. I love how initially started my day wanting to go lighter and ended up with mega dark hair -- it now looks black.
Of course the one thought going through my mind the entire time was, "I hope my hair doesn't fall out. Along with the dark brown dye, I also bought a hair treatment called One 'n Only Argan Oil Hydrating Mask. It's derived from Moroccan argan trees, hydrates intensely and restores the shine and elasticity that damaged hair lacks. This mask is creamy and smells really good. I left it on for about 10 minutes and now my hair is shiny and really soft.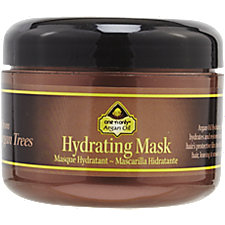 *Note to self -- don't ever attempt to lighten your hair on your own!*