Get Salon Volume at Home
Styling your hair at home won't always get you the salon results you want, but it doesn't mean that with practice you can't achieve it. The old flip-your-hair upside down while blow drying it will only get you so far. Sure you'll have volume at first; it just won't last as long as you'd like it to. They key to volume is prepping your hair before you even start to style it. On my never-ending journey for the perfect volumizer there's one that has become a guilty pleasure. The Matrix Vavoom collection give hair the extra oomph needed to reach new heights. (Shampoo and Conditioner $14 each).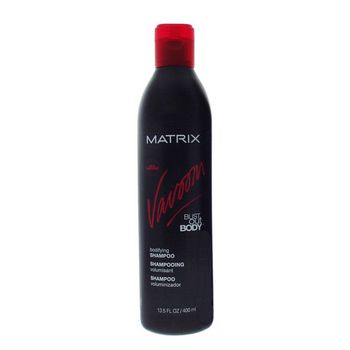 Start with the shampoo, and massage thoroughly onto the scalp. After rinsing focus the conditioner no your ends instead of roots. Conditioner is a lot more moisturizing and of thicker consistency. The less build-up and weight you keep off your roots, the easier it will be to get volume. The Vavoom shampoo and conditioner go perfect together. The product is of good quality, and the irresistible smell alone will have you falling in love. The first time you use the two together a definite change will be noted in your hair, and volume will be achieved.
For extra volume try using their Take Me Higher Root Riser ($14). It's a mousse you apply on the roots only after shampooing and right before you start to style it. It even has UV protection.
You can always use hot rollers to give your hair body and height. They're easy to find at beauty supply store. Depending on the brand it can be anymore from $15 to $50. CONAIR has a big selection to choose from; ranging in sizes and number of rollers.